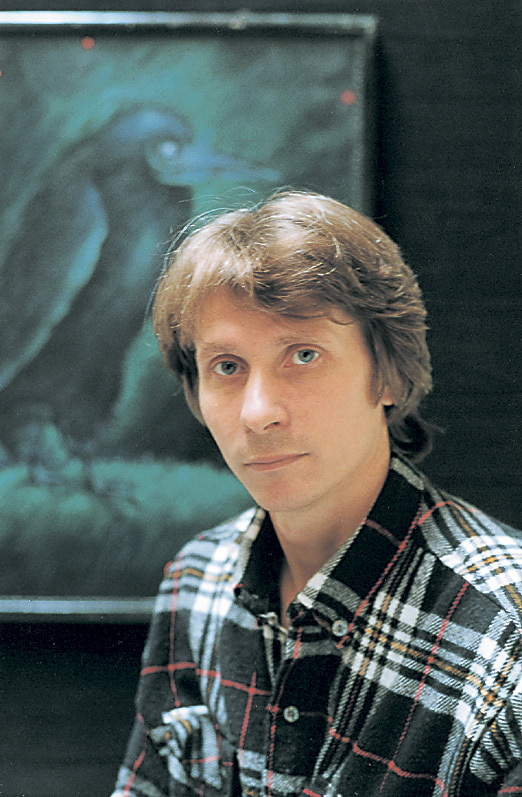 Leonid Kolosov was born in 1957 in Syberia, Tyumen region, Sorokino village.
In the end of fifties, during mass resettlement after the Second World War, his family had to migrate to Crimea, first to Dzhankoy and then to Kerch, where Leonid spent his youth.
Leonid started to paint when he was a child. First, like other boys, he painted soldiers and war scenes, in school he copied illustrations of Pushkin tales, after that other themes and subjects appeared. As Leonid had realized his calling in childhood, choosing a profession has never been an issue for him.
But after graduating from school he had to forget about painting for some time. In 1978 Leonid was called up for military service and left for Sevastopol to serve in the Black Sea Fleet. As Leonid confessed, those three years of service were very hard for him. Strict army discipline, a lot of rules and restrictions and no possibilities to realize his passion for painting - what could be worse for an artist?
"I felt like I had been wasting my time, like I had lost those years. Every day I stroke out one more day in the calendar as I woke up in the morning. I was in torment. It was my prison".
After service Leonid entered Odessa College of Art and Drama. He had been studying there for three years and graduated from the college a year ahead the schedule in 1984. Leonid was so eager to paint and studied with such a desire and ardour that after first year he was moved up to the third year.
"I grudged the years I had spent on service so much that I worked with redoubled energy to make up the lost time. On the first year I attended classes also with third and fourth year students. My fellow-learners did one home-task picture and I did ten or fifteen. When they started a still-life I had it already finished. I worked with such a desire to understand all the secrets of drawing and to achieve the top of mastery! I lived and breathed painting and nothing else mattered".
After graduating from the college Leonid moved to Nizhny Novgorod where he worked as a scene painter in theaters. First he worked as a scene painter in Nizhny Novgorod State Academic Opera and Ballet Theatre of A.S. Pushkin, then (since 1985) in Nizhny Novgorod Youth Theatre, and after that (since 1999) he was a production designer in Chamber Music Theater of V.T.Stepanov. After 19 years of work in theatres Leonid gave up that job to focus on painting only.
After college he mostly did etching and engraving. Painting creation started in 1990 with "Mushroom season" pictorial series. Then the painter switched to fantasy and mythological topics. As Leonid says, wonderful atmosphere of Nizhny Novgorod gave him a powerful supply of creative energy and inspiration.
"I came to Nizhny for the first time in a snowy winter. I came from warm and sunny Odessa and was wearing light clothing. Muffled up inhabitants seemed to me strange. They resembled cute, warm and soft domovoys. I was struck by great spaces here, old, all different, low wooden houses, with light smoke coming out of chimneys, their wonderful even cosmic spirit. In Odessa or Kerch I could sit at seashore staring at the sea for hours unable to paint because of lack of inspiration. But when I came in this city surrounded by villages covered with thick fog, lakes, birches, my eyes filled with tears. I wanted to paint it and to embrace all these immense and boundless space in painting immediately. It was unspeakable rapture over nature and special spirit of the city. One can feel the sole and love of its founders".
Since 1995 Leonid has been leading Club of Imaginary Art "Wanderers". As it generally known, in Russia not only wandering people are called "wanderers" ("stranniki"), but also strange people ("stranny") who make their way looking for harmony. The goal of the club is to gather uncommon artists with their own special world-view and an original way of expressing themselves in painting, not just copying the reality.
The thing Leonid appreciates in creative work most is the possibility to fantasize, rise under the vanities of everyday life and escape the reality which is at times cruel.
"I have a chance to dream and express my feelings through painting. And these are my paintings through which I search for Myself and try to understand myself".
On the pictures of this famous Russian artist one can see nixes, fantastic mushrooms, wonderfully downy cats and domovoys. By the way, Leonid believes that domovoys live in every house.
"Sometimes our worlds interfere and we disturb them. This is not a good thing when man gets into forbidden world. We shouldn't disturb or look for them, we just should help them and they would help us, then there would be mutual harmony."
That is complex and intriguing character of the artist. But the most thrilling thing is his art.
We hope it won't leave you indifferent.